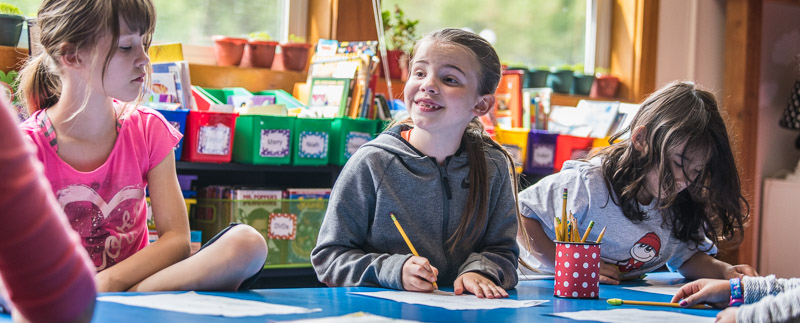 As Lutheran Christians, Zion approaches learning as a way to discover the gifts that God has given us and share those in service to others. Students are encouraged to wrestle with big concepts and our faith is integrated in all of our curriculum. Studies show that students who attend Lutheran schools are better equipped with life-long learning skills and do better in high school and college. In fact, students perform 23% better on standardized tests*. Small classes and individualized attention to students and their needs create an environment of educational excellence.
Kindergarten-4th Grade Curriculum: Foundations of Learning
Zion's lower elementary program focuses on building blocks of learning in reading, writing, and math concepts. Our teachers make a point to daily challenge students in their education and provide opportunities for questions to become strong critical thinkers. Through the use of iPads, Chromebooks, technology plays a role in the classroom as a useful tool to aid in learning rather than the main outlet for instruction.
5th-8th Grade: Bridges of Learning
As students progress through our academic programs, our middle school students build the groundwork for high school and beyond. Through class discussion and the development of strong writing skills, our 5th-8th graders are given the tools required to excel in college prep curriculum in high school settings. Strong math and science courses, as well as technology and computer coding electives give students experience in STEM curriculum to prepare them for the future. Electives allow students opportunities to try something new while also challenging themselves in a wide variety of subjects. By eighth grade our graduates are ready for the challenge of high school and find success in advanced level courses. 
Zion's "Walk-To" Program:
Students who have proven that they are ready for the next challenge in their academics are invited to participate in our Walk-To program. Students in this program walk up to the grade above in certain subjects like Math or Writing/Reading. This individualized attention ensures that students are working at an appropriate level and remain engaged in their academics. This program is often utilized in our upper grades.  
Please review a more expanded view of our subject areas:
*Search Institute Study